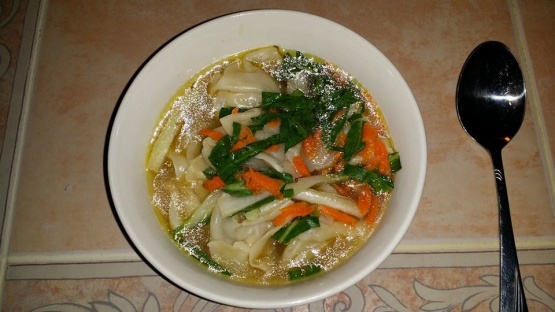 Today I thought we would make Chinese wonton soup. Short or wonton soup is very quick and easy to make. There are many wonton soup recipes but this one is the one I have used for years.
The secret to this soup recipe is to have your ingredients as fresh as possible. After you have tried this soup let me know whether you like or dislike this recipe. If you like you can follow me on Facebook, Twitter, Google plus, Pinterest, Tumbir, Linkedin, Reddit, Stumble Upon, Digg. If you would like to ask me a question, or have a recipe your are interested in just email.
I will be more than happy to get back in touch with you as quick as I can. I hope you enjoy this recipe.
Ingredients:
1/4 pound ground pork
1/4 pounds shrimp, finely chopped
1 thin slice root ginger, crushed
1 tablespoon soy sauce
1/2 teaspoon salt
1 clove garlic, crushed
few jobs sesame oil
16 wonton wrappers, recipe below
1 egg, slightly beaten
boiling salted water
4 cups chicken stock
2 scallions, finely cut
Directions:
1. Combine pork, prawns, ginger, soy sauce, salt, garlic and sesame oil in a bowl and mix well.
2. Place a teaspoon of the mixture slightly below center of a wonton wrapper and brush the edges of the wrapper with egg. Fold wrapper in half to make a triangle in press edges to seal, excluding any air. Moistened the 2 edges of the triangle with egg, bring together pinch to seal.
3. Drop wonton into boiling salted water and cook for 10 minutes.
4. Meanwhile, bring chicken stock to the boil in a pan, reduce heat and simmer for 2 – 3 minutes.
5. Lift out wonton, place 4 in individual bowls and add the chicken stock, garnish with chopped scallions and serve.
Wonton Wrappers Recipe:
Ingredients: Makes 40 – 50 wrappers
2 cups flour
1 teaspoon salt
1 egg
water
cornstarch
Directions:
1. Stir flour and salt together into a bowl, make a well in the center and add the egg and 2 tablespoons of water, mix well, gradually add more water until a pliable dough, then knead until smooth.
2. Lightly dusted board with cornstarch, divide dough into 2 pieces and roll out each piece, until paper thin. With a sharp knife, cut into 3″ precise squires for Di Sims, or 2 – 1/2″ precise squires for wontons, or use a 3″ cutter for Gow Gees. Cover with a damp cloth until ready for use.
Tip: Wrappers, dusted with cornstarch, stacked and sealed in plastic film or bag, can be frozen.
Servings: 4
Prep Time: 20 Minutes
Cook Time: 15- 18 Minutes
Total Time: 35- 38 Minutes