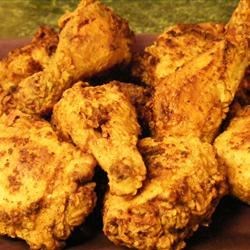 Just about everyone enjoys chicken, right? So today i though we could try a fried chicken recipe. The chicken recipe we are using today is a deep fried chicken recipe with buttermilk. The kicker is its a spicy fried chicken recipe.
I though it was time for a good fried chicken recipe.  After trying this recipe let me know what you think about it. Also if anyone has a good fried chicken recipe, please let me know. I would love to try it and post it. Let's get started.
Ingredients
2 tablespoons salt
2 teaspoons garlic powder
1 teaspoon each: chili powder, ground sage
1/2 teaspoon each: black pepper, cayenne
6 (3 1/4 pound) whole chicken legs, separated into thighs and drums (see note)
1 1/2 cups flour
3/4 cup buttermilk
1 egg
1-2 tablespoons hot red pepper sauce
1 quart (32 ounces) oil for high heat cooking
sweet and tangy red chili glaze and dipping sauce, see recipe
Directions
Mix salt, garlic powder, chili powder, sage, pepper and cayenne in a small bowl.
Rinse chicken and pat dry. Place in a single layer in a baking dish. Use about 1/3 of the salt-spice mixture to rub into all the chicken pieces. Let the chicken dry brine in the refrigerator (uncovered) for an hour or two.
Season the flour 1 1/2teaspoons of the remaining salt-spice mixture in a shallow dish, mix buttermilk, egg, 1 teaspoon of the remaining salt-spice mixture and hot sauce to taste.
Working with one piece at a time, dip chicken into flour mixture to coat well. Shake off excess. Dip into buttermilk to coat; let excess drain back into bowl. Dip chicken again into the flour mixture to coat on all sides; shake off excess. Place coated chicken on a rack set over a tray and refrigerate uncovered up to several hours. Let chicken stand at room temperature while you heat the oil or up to 1 hour if it's not to hot in the kitchen.
About 30 minutes before serving, heat oven to 200 degrees F. Have a baking sheet topped with a wire cooling rack ready.
Pour oil to a depth of 1/2 inch into a 10-inch deed wide cast-iron skillet or heavy-bottomed pot. Position a deep-fry thermometer into the pot so the tip is immersed. (Do not let the tip of the thermometer rest on the bottom of the pan). Heat oil over medium to medium-high heat (you'll need to adjust the heat as you work) until the thermometer registers 325 degrees F. (Lacking a thermometer, test the oil by slipping an edge of the chicken into the oil. It should bubble vigorously, Do not let oil heat to the point of smoking.)
To fry, gently slip a couple of pieces of chicken into the oil. Do not crowd the pan. Cook, turning gently with tongs after 5 minutes, until chicken is deep-golden and meat feels firm when pressed (165 degrees F on an instant-read thermometer), usually 10 minutes total. Transfer to the rack; place in the oven while you fry the rest of the chicken.
To serve, arrange chicken on a heated platter. Drizzle generously with the glaze. Serve hot with extra glaze for dipping.
After frying, let the oil cool, then strain it through a fine wire mesh sleve into a glasscontainer. Refrigerate covered up to 2 weeks and use for other frying, browning or sauteing purposes.
Note: Bone-in, skin-on chicken breasts can stand in for the chicken legs. Increase cooking time to about 12 minutes. Use caution not to overcook. To reheat the chicken, put it on a wire rack set over a baking sheet. Bake in a 400-degree F. oven for a few minutes. Rewarm the glaze before drizzling it over the chicken. If you want a spicier result closer to Nashville's hot chicken , double the amount of salt-spice mix when coating the chicken pieces. Leftover salt-spice mixture will keep in a covered container for several weeks; it is great rubbed into chicken or pork chops before roasting or grilling.
Sweet and Tangy Red Chile Glaze Dipping Sauce Recipe
Ingredients
1 cup light agave syrup
1/3 cup vegetable oil
1/4 cup hot red pepper sauce
1-2 teaspoons crushed red pepper flakes, to taste
1/2 teaspoon salt
Directions
Mix everything in a small saucepan. Heat over medium until warm and salt has dissolved. Serve warm.
Note: Use warm dipping sauce to glaze fried chicken, dunk biscuits or oven roasted Brussels sprouts or sweet potatoes. No agave? Make a simple syrup by boiling 1 cup sugar with 1 cup water until the sugar is completely dissolved and let cool. Store this sauce in the refrigerator up to 2 weeks.
Servings: 6
Prep. Time: About 10 minutes
Cooling Time: Up to 6 to 7 hours
Frying Time: 1 Hour 30 minutes
Total Time: Up to 8 Hours 30 minutes