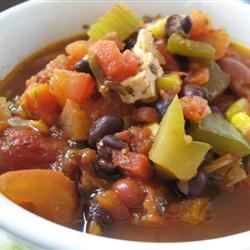 I though today we would try some vegetarian chili. I know their are a lot of vegetarians out there, and many vegetarian chili recipe. I think the chili today is an easy vegetarian chili to make. Does anyone have a favorite vegetarian chili recipe? If so please, let us know about it. Please post the recipe for our other readers to see and try.
Ingredients:
1 tbsp. olive oil
4 cloves garlic, finely chopped
1 small onion, finely chopped (about 1 cup)
1 green bell pepper, chopped (about 1 cup)
1 tsp. ground cumin
2 tsp. finely chopped canned chipotles in adobo  sauce
2 15-oz. cans black beans, drained
1 15-oz. can pinto beans
1 14.5-oz. can petite diced tomatoes (do not drain)
salt
pepper
Directions:
Heat a dutch oven or large saucepan over medium-high heat. Add oil, garlic, onion and bell pepper; cook for 4 minutes.
Add cumin; cook, stirring, until cumin coats vegetable mixture, about 30 seconds.
 Stir in 1 cup water and all remaining ingredients with 1 tsp. salt and 1/2 tsp. pepper.
 Bring to a boil. Cover, reduce heat and simmer for 5 minutes.
 Remove 1 cup bean mixture from pan with a slotted spoon; place in a bowl. Mash beans with a fork.
 Stir mashed beans into chili. Simmer 5 more minutes.
Servings:4
Prep. Time: 14 Minutes
Cook Time: 15 Minutes
Total Time: 29 Minutes