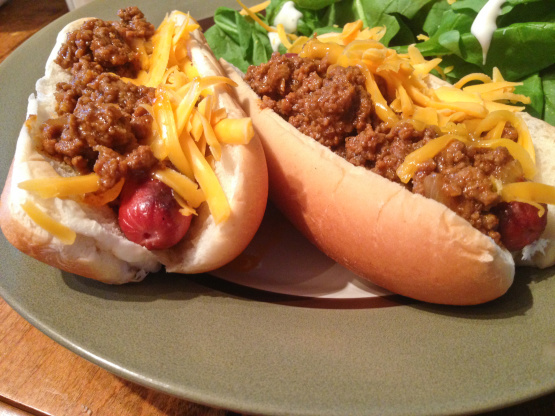 Today I'm going to show you how to prepare slow cooker chili dogs. You can prepare this chili dogs recipe any time. It taste good summer, fall, winter and spring. I think just about everyone likes a good chili dog.
Chili dogs are good for a large crowd or for a small get together. This is a good to know easy recipe to follow. Let me know if you enjoy this recipe, also if you don't like it as well.
Ingredients:
1 28 ounce can whole tomatoes
1 tablespoon chili powder
2 teaspoons ground cumin
1 medium onion, finely chopped
black pepper
8 ounce ground beef Chuck
4 hot dogs
4 hot dog buns
2 ounce sharp cheddar, shredded
4 pickles, for serving
Directions:
1. Place it tomatoes and there juices in a 5- to 6- quart slow cooker, breaking them up with your hands as you add them. Stir in the chili powder, cumin, all but 3 tablespoons of the onion and 1/2 teaspoon pepper; refrigerate the remaining red onion.
2. Add the beef, break it up and stir to combine. Cook, covered, until the meat is cooked through and liquid begins to evaporate, 5 to 7 hours on low or 3 to 4 hours on high.
3. 15 minutes before serving, add the hot dogs to the slow cooker and cook, covered, until heated through. Divide the hot dogs among the buns and top with the chili, cheddar and remaining onion. Serve with pickles, if desired.
Servings: 4
Prep Time: 15 Minutes
Cook Time: 4 Hours on high; 7 hours on low
Total Time: 4 Hours 15 minutes on high; 7 hours 15 minutes on low