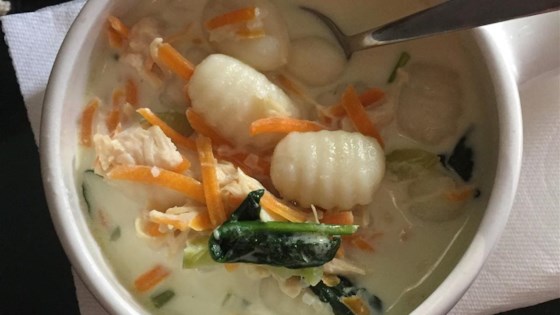 I was thinking with us still being in the winter season. Why not look at Italian Soups. So lets look at easy Italian soup recipes. Can also try popular Italian soups, so i though of this classic Italian soup Italian Gnocchi Soup.
This recipe is so easy it's funny. This recipe is for all level of cooks. If you have another Italian soup recipe you like please let me know what it is. So let's get started!
Ingredients:
1 onion, chopped
2 carrots, chopped
2 tbsp. Italian seasoning
6 cups chicken stock
1 lb. gnocchi
5 oz. spinach
1/4 cup diced pancetta
Directions:
In saucepan, cook onion and carrots in oil over medium-high until tender, about 8 minutes.
Stir in seasoning, then stock; simmer 15 minutes, stirring gnocchi and spinach into soup during last 2 minutes of cooking.
In nonstick skillet, crisp pancetta over medium, stirring about 8 minutes. Top soup with pancetta.
Servings: 4
Prep. Time: 5 Minutes
Cook Time: 33 Minutes
Total Minutes: 38 Minutes
Save