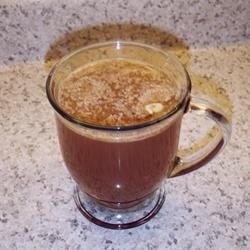 What better time to have a hot drink, or hot toddies.  With most of the U. S. in a cold snap.This hot cider cocktail will hit the spot every time. This is an easy hot cider cocktail recipe.
Do you have a favorite hot toddy? If so let us know what is it. We'll be more than happy to post it for you.
Hot Cider Cocktail
Makes One Drink
Ingredients:
2 ounces amaretto
6 ounces warm apple cider
1 dash bitters
whipped cream, as needed (recipe follows)
caramel sauce, as needed (recipe follows)
Directions:
Combine amaretto, warm cider, and bitters in an Irish coffee mug or regular coffee mug. Top with fresh whipped cream and caramel sauce.
Caramel Sauce
Makes About 2 Cups
Ingredients:
1-1/2 cups heavy cream
3/4 cup sugar
1/2 cup light corn syrup
2 tablespoons unsalted butter
Directions:
Prepare an ice bath. Bring the cream to a boil in a saucepan over medium heat. Remove from the heat.
Combine the sugar and corn syrup in a heavy saucepan over low heat and stir until the sugar dissolves. Slowly cook to a golden brown without stirring, 8 to 9 minutes. Remove from the heat and put the saucepan in the ice bath for 20 seconds to stop the cooking. Remove from the ice bath and stir in the butter.
Carefully stir in the hot cream, mixing until fully blended. To store the caramel sauce, transfer it to a clean bowl or jar, cover tightly, and refrigerate for up to 2 weeks. Reheat the sauce over low heat or in the microwave before serving.
Whipped Cream
Makes About 2 Cups
Ingredients:
1 cup heavy cream, chilled
1/4 cup confectioner's suga,
1/2 teaspoons vanilla extract
Directions:
Chill a stainless-steel bowl and the beaters of a handheld mixer, the whisk attachment of a stand mixer, or a balloon whisk.
Pour the cream into the chilled bowl and whisk on medium speed until thickened, about 3 minutes. Increase the speed to high and gradually add the confectioner's sugar while whipping. Add the vanilla extract and continue to whip until the cream has the desired peak according to its intended use. Soft peaks are good for dolloping cream, while firmer peaks are better if the cream is to be piped, used for topping, or folded into another mixture.
Note: If your cream starts to turn slightly yellow while you are whipping, it is close to being over whipped and turning into butter. Fold in a small amount of unwhipped cream, if you have it, to rescue the texture.
Servings: 1
Total Time: 20 Minutes
Save
Save
Save
Save