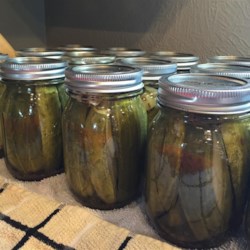 Today we are going to do some canning. We are going to make dill pickles. This is a very easy and straightforward dill pickle recipe. My wife and I have been canning and preserving all summer. We will continue canning and preserving into the fall.
One good thing about having a dill pickle. Is you can use the dill pickle juice after you have eaten all of the dill pickles. You can pickle, eggs onions just about anything you would like with this leftover juice.
After you have tried this recipe let me know what you think. Write and tell me if you like, are don't like this dill pickle recipe. Let's get started!
Ingredients:
2 tablespoons mixed pickling spice
2 1/2 cups cider vinegar
2 1/2 cups water
half a cup granulated sugar
1/3 cup preserving & pickling salt
3 bay leaves
3 garlic cloves
1 1/2 teaspoon mustard seeds
3 heads fresh deal
make cup sliced, trimmed pickling cucumbers (1/4″ slices)
pickle crisp granules
Directions:
1. Prepare stockpot/canner in jars as directed in step-by-step instructions.
2. Tie pickling spice in a square of cheese cloth, creating a spice bag.
3. Combine vinegar, water, sugar, pickling salt and spice bag in a medium stainless steel saucepan. Bring to a boil over medium-high heat, stirring to dissolve sugar and salt. Reduce heat and bowl gently for 15 minutes, until spices have infused the liquid.
4. Place one Bay leaf, 1 garlic clove, half teaspoon mustard seeds and 1 head of dill into each jar. Pack cucumber slices into hot jars, leaving 1/2 inch headspace. Add rounded 1/8 tablespoon pickle crisp granules. Ladle hot pickling liquid into jars, leaving 1/2 inch headspace. Remove air bubbles; re-measure headspace. If needed, add more cucumbers to meet recommended headspace. Wipe rim; center lid on jar. Through band until finger-tip tight.
5. Process filled jars in boiling water for 15 minutes. Remove stockpot lid. Wait 5 minutes, then remove jars, cool and store.
Prep Time: 10 Minutes
Cooking Time: 1 Hour
Processing Time: About 1 Hour
Total Time: 2 Hours 10 minutes