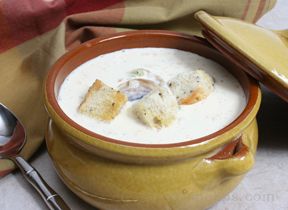 You cannot beat a good tasting stew. So i though we could cook oyster stew.  With winter coming to an end, why not come up with a good oyster stew recipe. I think i've found the perfect stew recipe, for the end of winter.
There are countless versions of this simple, elegant stew. To achieve the perfect texture of just-cooked oysters, poach them in the milk until their edges begin to curl, set aside, and return them to the stew just before serving.
After your tried this classic recipe, please let me know what you think of it. If you have a favorite stew and/or oyster stew recipe let me know what it is.
Ingredients
1 pt. shucked fresh oysters, undrained
2 cups milk
salt
freshly ground black pepper
1/4 cup butter
1 shallot, minced
1 small garlic clove, minced
2 tbsp. all-purpose flour
1 cup half-and-half
2 tbsp. sherry
1/2 tsp. worcestershire sauce
1/8 tsp. celery salt
fresh lemon juice
dash of hot sauce
oyster crackers, saltine crackers, or buttered toast
Directions
Drain oysters, reserving oyster liquor (about 1 cup). Heat milk and oyster liquor in a small saucepan over medium heat, whisking occasionally to prevent scorching, 3 to 4 minutes or until ixture,just begins to steam. Add oysters, and season with desired amount of salt and pepper. Cook 4 to 5 minutes or until the edges of the oysters just begin to curl. Remove pan from heat. Using a slotted spoon, transfer oysters to a plate to prevent them from overcooking.
Melt butter in a large saucepan over medium heat. Add shallot and garlic, and cook, stirring often, 4 minutes or until tender. Sprinkle flour over shallot mixture, and cook, whisking constantly, 1 to 2 minutes or until completely incorporated and bubbly. Gradually whisk in half-and-half and next 3 ingredients. Bring to a boil, whisking constantly. Gradually stir in reserved milk mixture and oysters. Reduce heat to medium-low, and cook stirring occasionally, just until warmed through. Season to taste with salt, pepper, lemon juice, and hot sauce. Serve with crackers.
Servings: 4 to 6
Prep. Time: 3 to 4 Minutes
Cook Time: 35 Minutes
Total Time: 38 to 39 Minutes