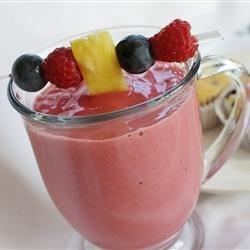 We are continuing our series of summertime recipes. Today's tasty recipe is banana berry smoothie. I think Everone likes some type of smoothie, all you have to do is change the ingredients. There are all types of smoothie recipes, that can be found today.
Smoothies are great anytime of the day. The good thing about smoothies, you can use fresh or frozen fruit. They are quick and very easy to prepare. In the coming weeks my new book will be coming out. I will let everyone know when it's ready.
Ingredients:
1 small banana, cut into small pieces
6 ounces pineapple juice
6 ounces raspberries, or blackberries
2 teaspoons honey
1 teaspoon grated peeled fresh ginger
Directions:
1. In a blender, and all ingredients.
2. Puree all of the ingredients, blend together until smooth.
Servings: 2, Makes about 3 1/4 cups